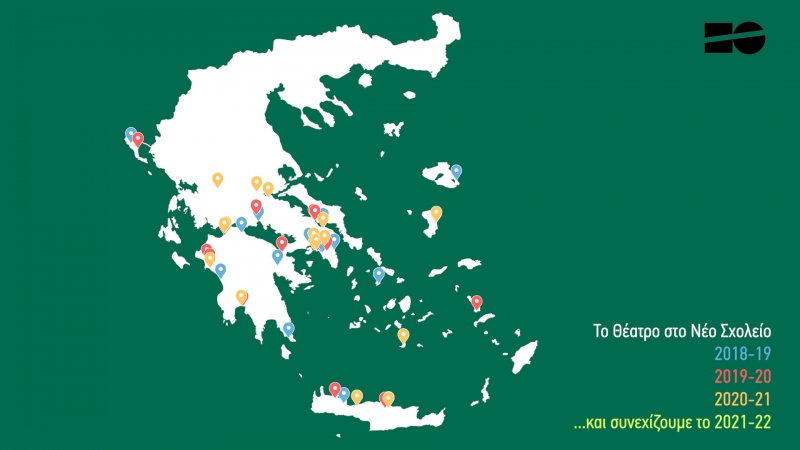 Theatre in Greek
Intensive theatre workshops for refugee teenagers by the National Theatre and UNICEF

In July 2017, the pilot project "Theater in Greek", an intensive theater workshop involving young refugee adolescents, Greek teenagers and professional actors of the National Theater, was launched at Young People Stage (Mikro Ethniko). This program continues until today, having already led to the creation of an intercultural theatrical group coordinated and directed by Sofia Vgenopoulou. Since February 2018, and in partnership with UNICEF, the "Theater in Greek" program continues and has spread through new actions:
Masterclasses: Working together with hospitality structures of our city, the National Theater has already opened its doors to more than150 refugee adolescents, by organizing theatre masterclasses to introduce teenagers to theater and its techniques. These masterclasses, held on the National's premises, bring together refugee and greek teenagers along with professional actors and musicians.
Open classes: In May 2018, secondary school students visited Mikro Ethniko in order to attend a series of open courses: the intercultural youth team of the National Theater invited classroom peers from schools and groups of unaccompanied children living in structures and shelters. Our goal was to feed our work through fruitful dialogue and to raise awareness among peers concerning the challenge of growing up in a rapidly changing world.
Performances for a wider audience: Finally, from 2 to 13 May 2018, our intercultural group presented its work to the Greek audience with great response. Therefore, with the invaluable and continuous support of UNICEF, the performance "The journey" was incorporated in the National Theatre's repertoire for the season 2018-2019.
Methodology

In the "Theater in Greek" program we use improvisation and representational techniques as tools for the creative expression and communication of the participants. At the same time, the program presents multiple opportunities for interacting with native speakers of the Greek language. Since language is used in a creative way, children are encouraged to explore it within the secure framework of the theatrical expression.
Finally, through the thrill of the theatrical experience, through the trust of the team and through the joy of collective creativity, and with the vehicle of the Greek language, the program encourages the integration of the children into a group of peers. That's how a common code of communication is formed, but also, and even more importantly, an intercultural consciousness is shared.
A coproduction with UNICEF, financed
by the Directorate-General for European Civil Protection and Humanitarian Aid Operations (DG-ECHO)